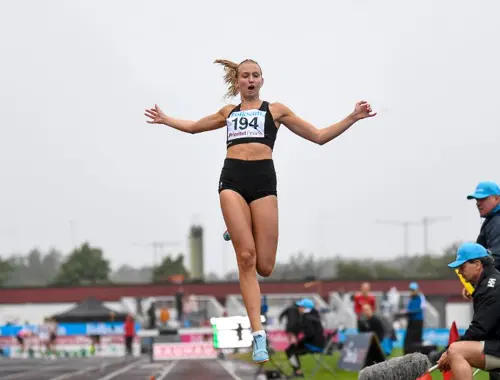 FOTO: DECA TEXT&BILD
Folksam Grand Prix Karlstad
IF Göta Karlstad has the honour to welcome you to Karlstad Grand Prix, one of the competitions in the Folksam Grand Prix-series.
Folksam Grand Prix Karlstad Wednesday 5th of July, a World Athletics Continental Tour Bronze Meeting
Meeting information Folksam Grand Prix Karlstad 2023

Wednesday 5th of July

INTERNATIONAL MEETING PROGRAMME
Between 18:00-20:00 with live broadcast on national TV - SVT!

EVENT SCHEDULE:
Men: 200m, 400m, 800m, 1500m, HJ, LJ, DT
Women: 200m, 800m, 400mH, LJ, SP, HT, PV (4th of July)

PREPROGRAM EVENTS:
M: 3000m, LJ, JT
W: 1500m, 100mH, LJ, JT

For participation contact johan.engberg@ifgota.se

PRIZE MONEY
Total prize money for the events in the main meeting is EUR 25,000

The prize money will be distributed on three levels:
Prize money: EUR 1000/600/400/300/200 = total EUR 2500 /event
Prize money: EUR 800/500/400/200/100 = total EUR 2000/event
Prize money: EUR 500/400/300/200/100 = total EUR 1500/event

2500 Euro
Men: DT
Women: LJ
2000 Euro
Men: 200m, 400m, 800m, LJ
Women: 200m, 800m, 400mh, SP
1500 Euro
Men: HJ, 1500m
Women: HT
The tax rate in Sweden is 15% which will be deducted on all prize money and promotional fees. For travel contribution there is no tax deduction.

OFFICIAL HOTEL
Scandic Klarälven,
Sandbäcksgatan 6, 653 40 Karlstad,
Tel. +46 54-776 45 13
It is located approx. 500 metres from the stadium.

AIRPORTS OPERATED
Stockholm Arlanda
Stockholm Skavsta
Landvetter Gothenburg

CONTACT
Meeting director & Athletes liaison:
Johan Engberg
johan.engberg@ifgota.se
0046-730 35 00 55

LIVE BROADCAST
Karlstad GP will be broadcasted by Swedish Television SVT.